Visitor Management System
Enables organization manage visitors by buildings or by departments
Web Visit Request

Make a Visit Request
Invite a Visitor

Web application Interface for Visitor Management and Administration

Mange Building/Department
Manage Visitors
Visitor Configuration
View Reports

Mobile App for Check-In, Check-Out, Web-Check-In

Linked with Security Officer
Location

Pre-defined – Can be selected from pre-defined Location list
Random -Geo-tagged temporary locations for events

Manage Entry and Exit in Allocated Building/Department
Visitor Can fill App by Self and obtain SMS Pass
Can print Hardcopy Pass in Credit Card Size if connected with Printer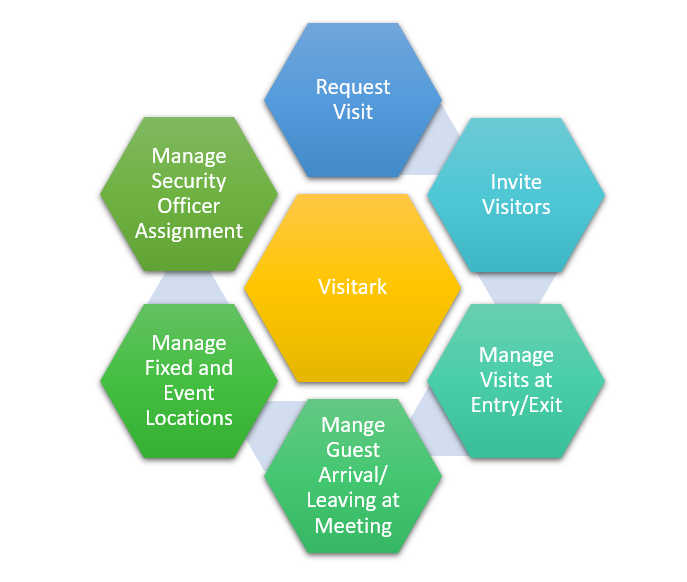 Client Scenario of a State Directorate with 6 regional offices, 36 districts and 950 Institutes.
Challenge
Managing data of Visitors for each of the locations.
Visitor frequency and multiple purposes of visits are not captured.
There was no visibility at the central level as to what are the visitor for regional and district offices.
The regional offices and district offices wanted visibility of visitors to the 950 institutes.
Current system of visitor capture in excel also did not provide for analytical capabilities.
Budget planning for visitors are inaccurate.
Resolution
Implementation of Visitark provided for Visitor data capture
Ensured visitor purpose of visits is captured
Provided ability to have verified contact of visitors at the reception/gate, to be able to follow-up with the visitor
Visitor frequency could be analysed by multiple parameters
Reporting helped identify patterns of Visitors